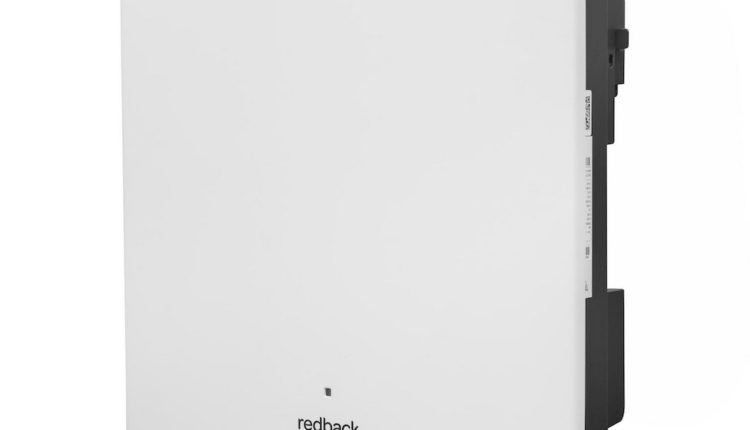 New look Redback launches solar inverters, two bigger home batteries – One Step Off The Grid
Australian energy storage company Redback Technologies has added a number of grid-connected solar inverters to its product range and has expanded its range of home batteries to include two new larger-capacity formats.
The Brisbane-based company announced its new battery and inverter products this week as part of a "brand relaunch," including the unveiling of a new logo depicting the sun and "the open road to Australia's clean energy future."
Redback CEO Patrick Matweew said the decision to rename it coincided with a "big change" in corporate strategy based on the success of its pivot on smart home battery solutions in 2015 and its market position as an Australian company.
Matweew, the new inverter and the new logo
"Coupled with the fact that there is no affordable Australian brand on the market, we decided to add on-grid PV inverters to our portfolio," said Matweew.
"We want to offer Australian households and small businesses an Australian option that is tailored to our local conditions, that is robust and affordable, and that is clearly niche in the market right now."
The Redback Smart Inverters series is single phase, has an output of 5, 6, 8 and 10 kVA and allows home batteries to be added in the future. They will be available in Australia from the end of November and all comply with the new AS4777.2 (2020) standard.
The new batteries in Redback's Smart Battery series include the SB9600 with a nominal storage capacity of 9.6 kWh and a 4.5 kVA inverter, as well as the larger SB14200 with a storage capacity of 14.2 kWh and a 4.5 kVA Inverter.
The two new lithium-ion batteries – which were officially presented at the Smart Energy Conference in May – will also be available to consumers at the end of November, while the smaller 7.2 kWh Smart Battery is now available and in stock.
Matweew said at the time that the new offers were due to an "enormous success" with the 7.2 kWh SB7200 and the realization that solar households were increasingly looking for more choice and, above all, for "a little more storage".
According to the specifications for the Smart Battery series, they are designed for use in temperatures between -20 ° C and 60 ° C, although the sheet notes that the battery is subject to derating at temperatures below 10 ° C and above 40 ° C.
The AC-coupled battery has an integrated battery management system and provides emergency power in the event of a power failure. It should also be compatible with "most" existing rooftop solar systems.
"Our rebranding renews our strong commitment to our Australian customers, partners and the community as we strive to make renewable energy affordable for every Australian household and small business," said Matweew this week.
"The entire Redback team is very proud to show that there is space and opportunities for a local Australian start-up to enter the highly competitive solar market and make a difference.
"I think our very Australian approach based on relationships, a focus on local support and community engagement is what sets us apart."