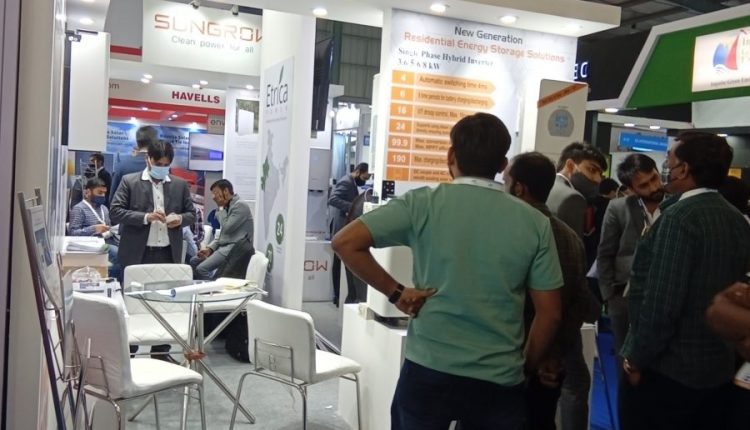 Invergy builds residential solar inverter factory in India – pv magazine India
Director Deepak Pandey is confident that the company's hybrid devices – compatible with lead-acid and lithium batteries – will replace the existing market.
December 3, 2021 a gupta
Invergy is exhibiting its residential energy storage systems at Intersolar India 2021.
a gupta
London-based inverter and battery company Invergy, which launched its hybrid solar inverters in India this year, is targeting residential arrays of 3-12kW products for use in single and three-phase configurations.
As part of its efforts to attract Indian customers, the company will set up an inverter factory in India Noida, Uttar Pradesh to May, which can produce 5MW of products annually.
That's what Invergy director Deepak Pandey said PV Magazine: "Our product line does not compete with other inverter brands present in India. Ours are next generation inverters with features that have not been introduced in India to date. These are IP65 rated units that are compatible with both Lithium Ion and Lead Acid batteries. Currently, the inverters available on the Indian market are mostly only compatible with [a] Lead-acid or lithium battery."
Invergy's single phase hybrid residential inverter
Taken by Uma Gupta at Intersolar 2021
"Our inverters are scalable. So you can get 50kW of power by placing 5kW inverters in ten rows in parallel. You can connect up to 16 rows. The maximum power in this case is around 75 kW for 5 kW units. The best part is that our single-phase inverters can be connected in three-phase mode and provide a three-phase output."
Invergy claims 10MW of manufacturing capacity for the residential solar market in Europe, West Africa, Dubai and India.
"We want to produce in India as the response in the Indian market is good," added Pandey. "The "Make in India" concept is also there. The elevated [customs] Tariffs on imports of ready-built units are among the reasons [for our expansion in India]."
This content is protected by copyright and may not be used further. If you want to collaborate with us and reuse some of our content, please contact: editors@pv-magazine.com.