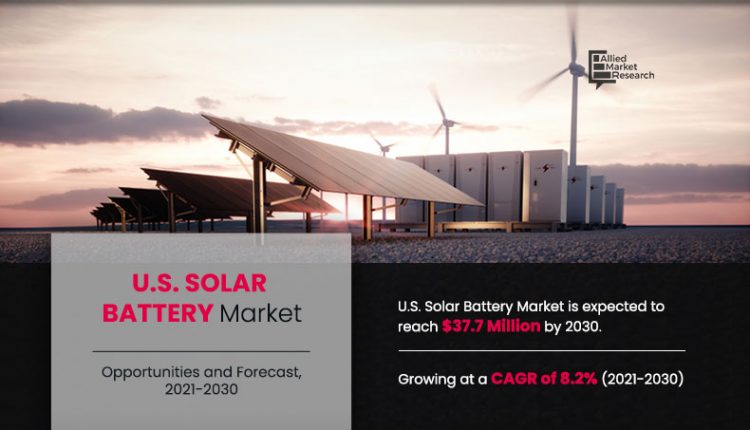 US solar battery market to reach $37.7 million by 2030 at a CAGR of 8.2% – Digital Journal
US solar battery market
According to a new report published by Allied Market Research, titled "US Solar Battery Market by Type and End User: US Opportunity Analysis and Industry Forecast, 2021-2030," the US solar battery market grew to US$16.9 million in 2020 -$ and is also projected to reach $37.7 million by 2030 and grow at a CAGR of 8.2% from 2021 to 2030.
Solar batteries are generally used to store solar energy and discharge the energy as needed. It consists of lithium ions or lead acid. It is rechargeable and can be widely used in solar cell systems to store excess energy. The main applications of solar batteries include solar charging stations, storage for power plants and storage systems for off-grid systems.
Download sample report: https://www.alliedmarketresearch.com/request-sample/13473
The US solar battery market is segmented by type, end-user and region. On the basis of type, the market is segmented into lithium-ion, lead-acid, flow-through batteries and others. Various end users of solar batteries studied in the US solar battery market include residential, industrial and commercial. The US Solar Battery market share is analyzed for each individual segment.
The US Solar Battery Market analysis includes in-depth information of the major industry players. Major players operating and profiled in the US solar battery market include Adara Power, Aims Power, BBI Battery, Enersys, Fortress Power, Goal Zero, Panasonic Corporation, Power Sonic Corporation and Tesla. Inc, Simpliphi Power, Inc, Sunpower, Solaredge Technologies Inc and US Battery Manufacturing Co. Other players in the US solar battery market include Enphase Energy and others.
Based on type, the Lithium Ion segment achieved a 79.3% volume share in 2020 and is expected to grow at a CAGR of 7.7% from 2021 to 2030. This is attributed to the high charging and discharging efficiency of lithium-ion batteries, which help in harvesting a large amount of energy. For example, the average efficiency of lithium-ion batteries is 90-95%, while lead-acid is around 80-85%. In addition, the industrial segment is the leading end user of solar batteries. This is attributed to strong demand from various industrial end users for additional energy storage solutions.
For purchase inquiries: https://www.alliedmarketresearch.com/purchase-enquiry/13473
Key Findings of the Study
The report outlines the current solar battery market trends in USA and the future scenario of the market from 2021 to 2030 to understand the prevailing opportunities and potential investment pockets.
The US solar battery market size is given in terms of volume and revenue.
On the basis of type, the flow battery segment is expected to grow at a CAGR of 5.9% in terms of revenue over the forecast period.
On the basis of end-user, the commercial segment gained a 32.1% revenue share in 2020.
By type, the lead-acid battery segment accounted for 3.5% of sales in 2020.
Impact of COVID-19 on the US solar battery market
The COVID-19 outbreak has impacted both demand and manufacturing of US solar batteries.
The COVID-19 pandemic has impacted solar project delivery times, consequently hampering demand for solar batteries. The delay in projects is due to labor shortages.
Some of the solar project developments include NextEra's Dodge Flat Solar Energy Center and the Fish Springs Ranch solar farm in Nevada. These projects are under contract with NV Energy Inc. They are due for completion in 2021. The projects have 300 MW of solar power and 75 MW of energy storage.
Additionally, NextEra's Wheatridge Solar & Battery storage facility in Oregon is also on track. It is part of a wind-solar storage project with Portland General Electric Co. and various large-scale battery integrations into existing solar farms under an agreement with Southern California Edison.
Get Detailed COVID-19 Impact Analysis on Market: https://www.alliedmarketresearch.com/request-for-customization/13473?reqfor=covid
about us
Allied Market Research (AMR) is a full-service market research and business consulting arm of Allied Analytics LLP, based in Portland, Oregon. Allied Market Research provides global, medium and small businesses with unmatched quality of "Market Research Reports" and "Business Intelligence Solutions". AMR strives to provide business insights and advice to help its clients make strategic business decisions and achieve sustainable growth in their respective market space.
We are in professional business relationships with various companies and this helps us to unearth market data which help us create accurate research data tables and confirm the highest accuracy of our market forecasts. Pawan Kumar, CEO of Allied Market Research, is instrumental in inspiring and encouraging everyone associated with the company to maintain high data quality and help clients succeed in any way possible. All data presented in the reports we publish are extracted through primary interviews with top officials from leading companies in the relevant field. Our secondary data sourcing methodology includes extensive online and offline research and discussions with knowledgeable professionals and analysts in the industry.