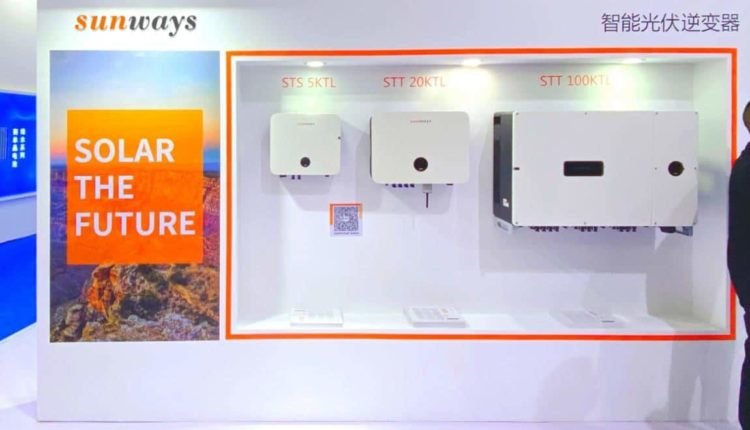 The German solar inverter producer SUNWAYS presents options on the SNEC – pv journal Worldwide
From June 3rd to 5th, the 15th International Solar Photovoltaic and Smart Energy (Shanghai) Conference and Exhibition by SNEC was officially opened at the Shanghai New International Expo Center.
June 7, 2021 Sunways
The exhibitors are all types of players focusing on devices, materials, cells, application products and modules, as well as engineering and systems, energy storage, mobile energy and other various areas of the photovoltaic industry. Sunways with German technology and quality showed a number of new product models, the inverters exhibited at the stand were perceived as attractive and attracted a great deal of attention from the specialist audience in the exhibition hall.
Sunways showed three of the most popular products that have already gained high recognition and recognition in the Chinese market, including STS 5KL single-phase solar inverters for residential buildings, STT 20KTL three-phase inverters for residential and commercial roofs and STT 100KTL three-phase inverters for industrial and commercial solar systems.
Single-phase grid-connected inverter Sunways STS 5KTL with a high efficiency of 98.10% and high reliability and operational safety. The operating temperature is around 5 to 10 degrees Celsius below the standard versions, an advantage that ensures a longer service life and higher reliability. With various built-in protection mechanisms – DC and AC surge, anti-island, short circuit, overvoltage, overcurrent and overtemperature protection as well as reverse polarity protection with earth fault and network monitoring with further guarantee of stable performance and safe operation.
Sunways STT 20KTL has a high power density, a high integrated power generation efficiency of 98.6% and an integrated advanced MPPT algorithm that can effectively reduce the power loss caused by rapid weather changes and shadow multi-peaks. Two MPPT trackers essentially allow the inverter to treat the array as two separate systems, which ensures greater versatility, better efficiency, and more effective use of space. With excellent redundancy circuit design, it supports 1.1 times continuous overload and high overfitting ratio.
Sunways STT 100KTL is suitable for both industrial and commercial roof and solar systems. Our DC string voltage offers high energy density, lower installation costs and less space requirements. With a maximum efficiency of 98.8%, STT 100KTL helps to maximize the yields of PV power plants in the new era of high-performance solar modules and at the same time to reduce the electricity production costs of the system. An integrated intelligent I / V curve scan function helps in the detection of string errors such as panel mismatch and shading in order to guarantee maximum system performance and at the same time make O&M quick and easy.
Sunways receives certificates from TÜV SÜD and DEKRA
During the PV exhibition SNEC 2021, Sunways received the certificates IEC 62109, network-bound EN 50549, network-bound VDE AR-N4105, network-bound NRS 097-2-1 (South Africa) for three-phase inverters from TÜV SÜD and network-bound TOR producer (Austria) from DEKRA . The relevant certifications from TÜV SÜD and DEKRA give us more security that we can offer our customers more efficient and reliable products and thus further strengthen the competitiveness of our products on the market. These certifications confirm our innovation and strength, the comprehensive performance, quality and even the manufacturing process of the product fully meet the strict quality and safety requirements. In terms of the products, Sunways always adheres to the "German Design & Performance", the certifications from TÜV SÜD and DEKRA also ensure the quality of the product and also enable the user to use it comfortably.
About Sunways
Sunways, formerly known as Sunways AG, has been founded in Konstanz, Germany, since 1993. Sunways is known for technological innovations in the development and manufacture of PV inverters, solar energy storage systems and PV integration solutions. After almost 30 years of research and development, the high-quality PV inverters from Sunways are widespread in more than 40 countries and regions, which makes the company one of the longest established PV energy suppliers in the industry. Currently it has established a stable foundation and brand awareness in the European market.
Sunways will continue to sound out the market potential, expand the global market and regard quality, reliability and technology as central competitiveness in order to be able to offer customers around the world high-quality products and comprehensive services. Sunways will help our business partners accelerate the clean energy transition and integration around the world.